Menus and finding your way around.

From the Main menu next action can be selected. If a program is already available such program can be loaded and Run directly from the "RUN Program" menu.
Or if we want to program a new program we can choose the "PROGRAM Robot" menu.
Or we can go to setup by pressing the "SETUP Robot" .
Or we can shutdown the robot which we already tried above.
In this case we want to make learn more about how to operate to robot and therefore will go towards programming the robot – choose "PROGRAM Robot".
This will take you to a screen where there is a "File" menu and 5 sub menu Tabs.
On is a "File" menu from we have similar menus as the big buttons on the screen and from where we also can load and run programs. This "File" menu will automatically be explained as we progress this manual because we will be using this menu frequently.

The 5 sub menus below the "File" menu are called Program – Installation – Move – I/O and Log. Try and press each of them just for now to briefly see what is inside each of them.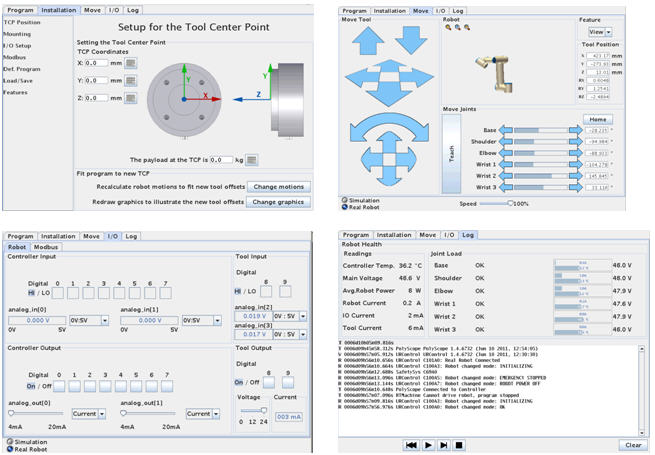 The "Installation Tab is an advanced setup which will be explained later and is not necessary to worry about yet.
In the next chapter we will focus on the Move Tab.
Disclaimer: While the Zacobria Pte. Ltd. believes that information and guidance provided is correct, parties must rely upon their skill and judgement when making use of them. Zacobria Pte. Ltd. assumes no liability for loss or damage caused by error or omission, whether such an error or omission is the result of negligence or any other cause. Where reference is made to legislation it is not to be considered as legal advice. Any and all such liability is disclaimed.
If you need specific advice (for example, medical, legal, financial or risk management), please seek a professional who is licensed or knowledgeable in that area.
Author:
By Zacobria Lars Skovsgaard
Accredited 2015-2018 Universal Robots support Centre and Forum.